akkuteam chager technology for starter- and tractionbatteries
---
Charger for traction batteries
As a specialist supplier of batteries and battery technology, we also offer you the right chargers in addition to traction batteries for intralogistics. We advise you on the design of the power size and the technology, because this is crucial for the service life expectancy of the battery and the operating costs of the charger.
In our range you will find cost-effective chargers in conventional 50 Hz technology and state-of-the-art high-performance devices with inverter technology which convince by their small size and high efficiency. We offer chargers for both conventional lead-acid and lithium-ion batteries.
We give you advice especially on your application and select the suitable charging system for you by taking into account all economic aspects. In addition, we are able to design chargers for your specific application.
Charger technology for starter batteries
No matter, if you are looking for a charger for the protection of the energy demand during power-intensive work on the on-board system. If you need a device for charging batteries inside or outside the vehicle with subsequent charge retention. Or if you are looking for a charger especially for on-board systems support of exhibition vehicles.
akkuteam is your experienced partner. We offer a range of chargers, but we are also able to design devices which are specially tailored to your needs.
Laboratory tests/ field tests
All chargers for traction batteries or lead-starter-batteries are state-of-the-art. The devices were successfully tested in our testing laboratory and also in field tests for effectiveness, functionality and reliability.
You want to have your charger tested? No problem. Our laboratory team will put your device to the acid test.
Please contact us. Phone: +49 (0)5521 / 9981-0.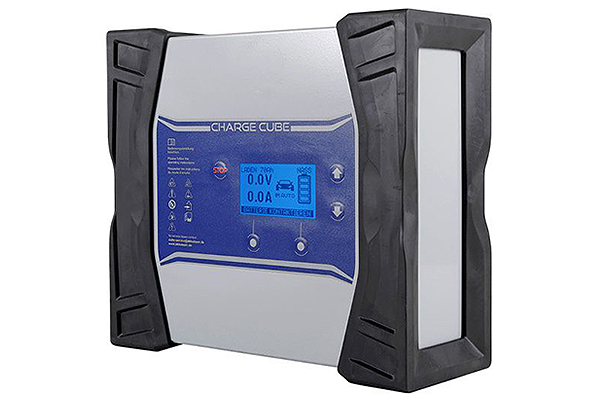 Charge Cube - the compact, efficient lead-starter-battery charging device
The Charge Cube is a compact high-frequency battery charger, which is designed as a broadband network input device. It corresponds to the highest efficiency class with a power factor of 0.99 for energy-saving Operation and can be operated worldwide without national variations in all power grids. Country-specific versions are not necessary. The charger offers you an automatic IU characteristic curve for batteries with liquid and bounded electrolyte as well as for lithium-ion batteries. It is suitable for batteries of 3 to 300 Ah (adjustable via capacity selection). The Charge Cube has an automatic detection of vehicle voltage and a cooling using temperature-regulated fan.
It has a self-explaining and user-friendly menu guidance by using a color display and also uses pluggable mains and charging cables for an easy handling. The charger is designed with a robust steel housing with soft rubber edge protection to avoid vehicle damage. The Charge Cube is a robust and high-efficiant battery charger, which has been designed epecially for hardest working conditions in workshops. Thanks to the update-capable firmware the charger offers the highest-possible operational safety even for future battery generations and changing requirements on quality assurance.