akkuteam introduces oneself
---
akkuteam is a specialist supplier of battery and backup power technology. We provide off-grid electrical energy supplies in mobile and in stationary sectors. We are an owner-managed, medium-sized family company. Today, our company can look back on a 25 year company history which was consistently characterised by strong growth. With currently more than 70 staff members we work at two locations in southern Lower Saxony and provide from there of nationwide, for the automotive sector even worldwide service.
Our core expertise is formed by project management, sales and maintenance of stationery and mobile battery systems and energy storage systems, static non-interruptible power supply systems, safety lighting systems and power generators. With our products we can provide an electrical performance range from a few watts up to several megawatts. Our product portfolio is rounded off by a qualified selection of services. We have around 25 technical staff and fitters, and with them we can round off all the assembly, maintenance and repair work necessary for our range of services.
Through our engineering services, we provide advice in the energy storage and battery system sectors using our extensive specialist knowledge for mobile and stationary applications on questions regarding economic and application-specific optimisation.
With our special charging technology sector we develop special battery charger devices for the automobile manufacturing workshop sector. We have been the most globally important supplier to the Volkswagen Group in this sector now for over 15 years.
Furthermore we operate a qualified battery testing laboratory in which we check starter batteries for the automobile industry for series approval in accordance with applicable international standards. In this case, our customer base include a wide range of European mobile manufacturers in addition to most of the globally-active battery manufacturers.
One special service sector is our Battery Care Station in which we recharge starter batteries from overseas imports for the automobile industry, check the quality properties and then supply the batteries on schedule to the various automobile manufacturer production locations. We are currently supplying 7 European automobile factories with a daily delivery quantities of up to 5000 starter batteries.

Our Battery Check Laboratory
The akkuteam battery testing lab, set up in 2010, meets the stipulations of the most recent technological standards. With its equipment it is adapted to the equipment of the test laboratory of Volkswagen Forschung & Entwicklung, our largest customer in this segment. It is also fitted out with a maximum safety power supply system which is unique in Europe. This enables us to ensure you to obtain precise test findings given without any power cuts. Learn more about our process reliability, the technical set-up of our testing lab and also about our range of services on the following pages.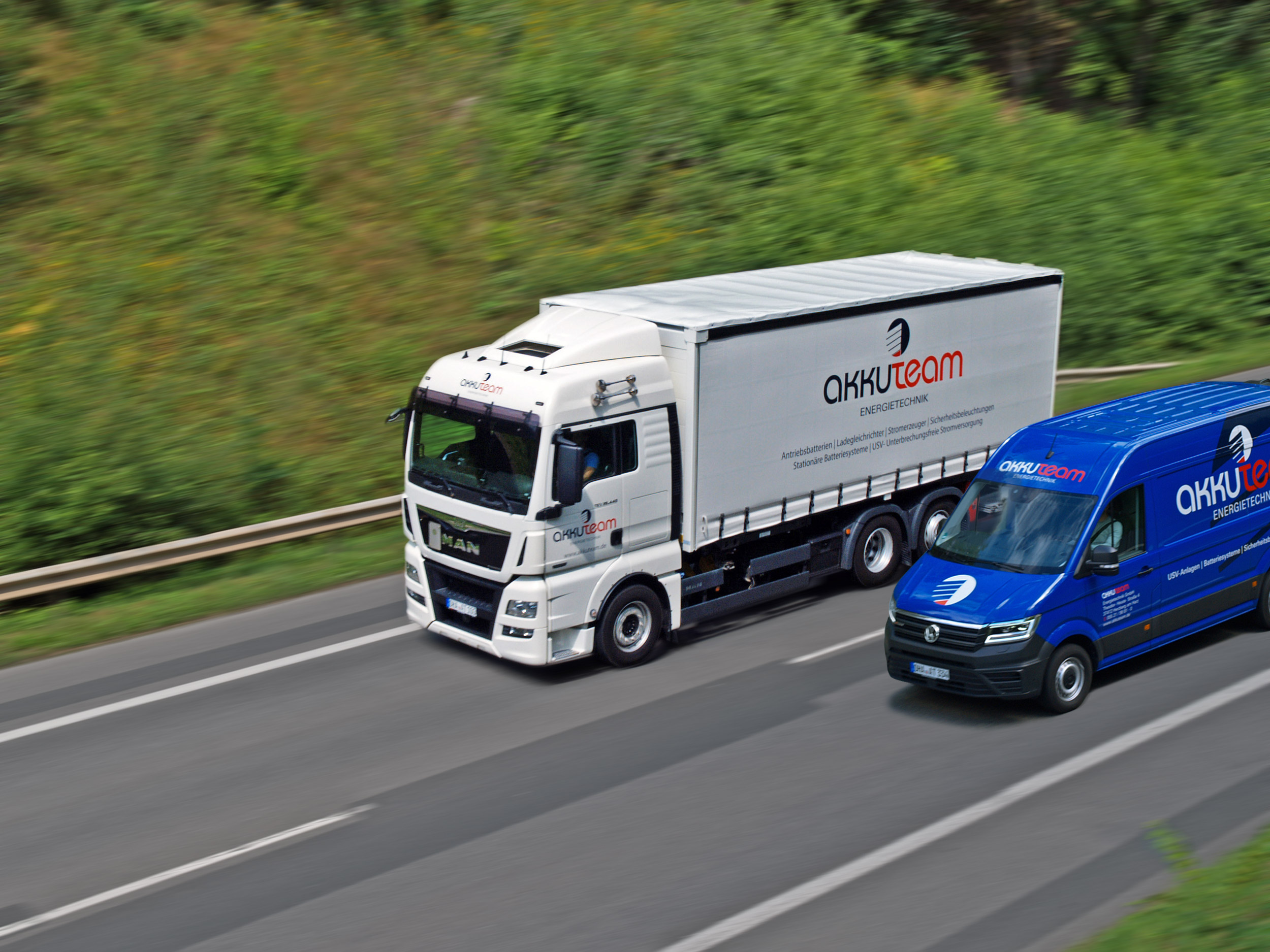 Our Service for you!
We offer our customers outstanding repair and maintenance services provided by our own qualified employees for all of our akkuteam product ranges. Our team of service staff is available to help you 24 hours a day all year round. In case of a failure we will be ready for maintenance within a few hours all over Germany.

Our Battery Care Station
The construction of the Battery Care Station by akkuteam in 2010 created a recharging station for starter batteries. This is a service of special interest for overseas customers. After all, lengthy transportation times can lead to voltage drops in the batteries. As a consequence, they may fall outside the tolerance range needed for fitting into new vehicles from Germany's automobile manufacturers.