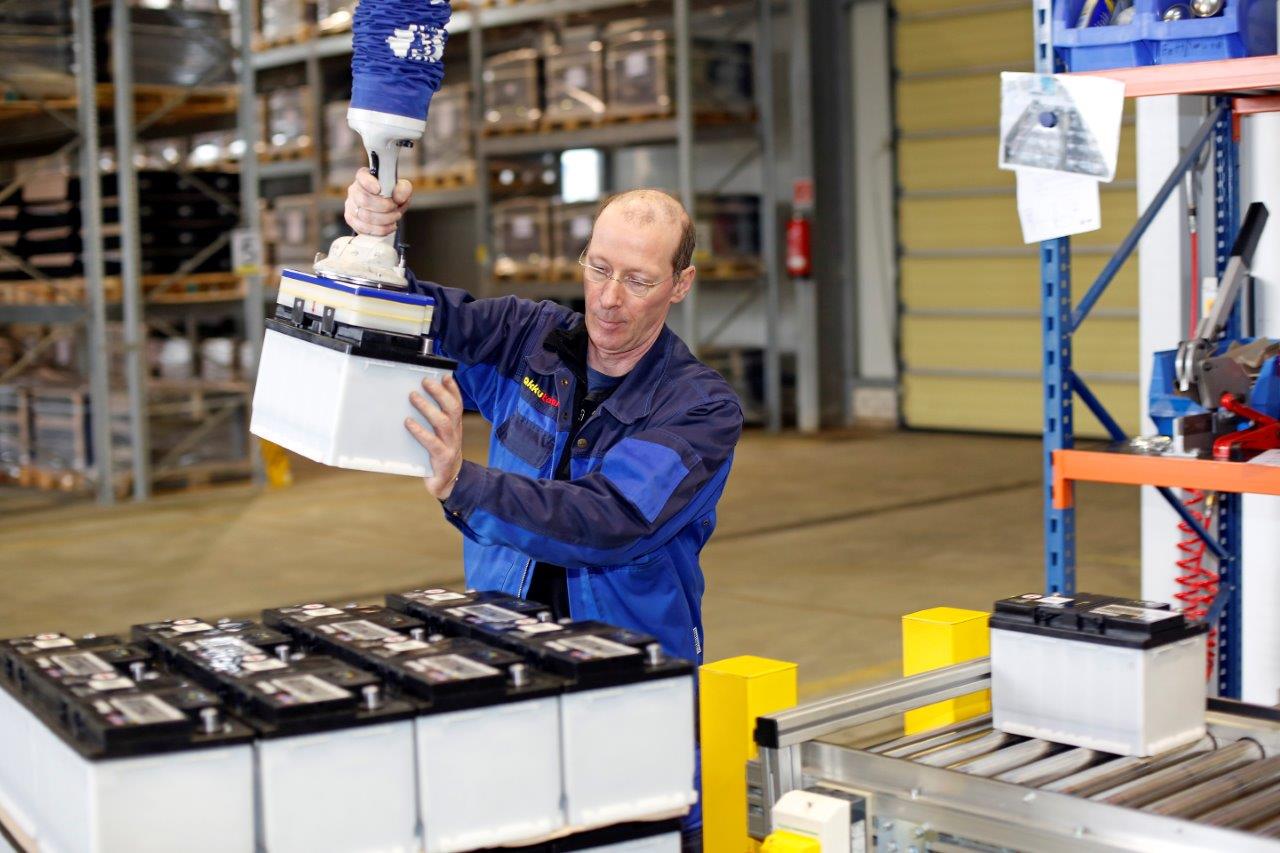 Battery Care Station – the high-tech power dispenser for your batteries
---
The construction of the Battery Care Station by akkuteam in 2010 created a recharging station for starter batteries. This is a service of special interest for overseas customers. After all, lengthy transportation times can lead to voltage drops in the batteries. As a consequence, they may fall outside the tolerance range needed for fitting into new vehicles from Germany's automobile manufacturers.
The Battery Care Station is the ultra-modern power dispenser for your batteries. We take up your products directly on route to where they are to be used and store them. Non customs-cleared products from outside the EU are stored for an interim period in a bonded warehouse. The next step sees the batteries being checked for any visible faults, tested as to efficiency and, if necessary, recharged. They are then packed for transportation as specified by the targeted customer and shipped on schedule to where they are to be used.
We provide your batteries with renewed power and safeguard your quality!

Technical facilities
Authorized bonded warehouse

800 charging points

Database for electronic individual battery data coverage

High-voltage test bed for battery housing seal tightness

High-current discharging test bed for power tests

Vacuum battery lifting systems for gentle handling

Fields of application
Starter batteries (AGM, EFB, Gel technologies)

Small traction batteries

Batteries for stationary and standby applications

Range of work & services
Battery recharging

Warehouse for EU and customs goods

"Just in Time"

Process documentation

Operative capacity
The number of overseas manufacturers with an even greater share of the German market and with most of their products being sent by ship to Europe continues to grow. The EUR 180.000 investment undertaken at the start of 2015 has resulted in a four-fold increase in the operative capacity of the Battery Care Station. This expansion enables us to recharge up to 3.300 starter batteries a day and to despatch them. We look upon this as an investment for the future providing us with the means to meet the growing demand.

Process dependability
Our manufacturing and testing processes are oriented to the respectively valid statutory specifications and purchaser group standards. All sequences are documented in keeping with Quality Management ISO 9001.